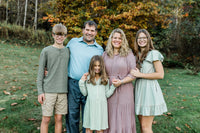 About Dr. Sarah
Dr. Sarah is a farmer, veterinarian, and mother with a deep desire to care for her animals and nurture her children with only the best.
With that in mind, she has developed three lines of products (People, Pets and Livestock) that are made up of only high quality, non-toxic, naturally derived ingredients to promote health and healing from farm to family.
Read More
I just wanted to take a quick minute to tell you how much of a savior your comfy cream has been for my horse.  He is half Hanoverian, half Thoroughbred and his Thoroughbred side gets him into trouble more often than not.  It also ensures that he swells up at the slightest sign of discomfort.  


I came across your Comfy Cream originally on the SmartPak website when I was looking for help with swelling brought on by a lovely case of scratches.  I love that it's a natural product that uses essential oils.  My horse loves oils and I use them on him regularly.  The Comfy Cream made my life easier as it's a ready-made ointment.  He adores the smell of it as well - he likes to sniff it before I put it on him.  Literally every time.  


It helped tremendously with the scratches and even more so when his new pasture mate kicked him a month later. It is definitely something I will keep stocked in the barn from now on!

Thank you for making such great products!

Donna J.
Dr. Sarah is very knowledgeable and compassionate about sustainable agriculture and holistic veterinary medicine. She makes wonderful herbal medicinals for animals (they contain only the purest of ingredients). I have used Dr. Sarah's Essentials product Savvy Udder for years, but was most impressed when I used it during pregnancy and avoided stretch marks. I highly recommend Sarah and her products!

Megan D.
Excellent consulting. Gets to the challenge and discusses ideas. Respects my homeopathic and animal education and input.
Easy to work with and every purchase worked better than anything else.
Stay safe.

Linda U.
The Old Fashioned Utter Balm is a miracle cream! I have sensitive skin, with eczema and terribly dry skin in the winter. I use this cream once at night and in as little as 2-3 nights it is gone! All natural ingredients and smells great- bonus!

Natallia H.
Great products! I have just about all of her products and they are used on my pets, cattle, and family. Arnica ointment and her citrus lotion are my favorite products. The customer service is amazing!

Ivy K.
I have used many of Dr. Sarah's skin care products and have found every one extremely beneficial. Plus they feel good and smell great!

Bobbi S.
Dr. Sarah is great to work with.

Barbara J.
I use the Happy Lips Organic Lip Balm daily. It's by far the best lip balm I've ever used and I've tried so many different brands. I'm hooked!

Robyn B.
We love Dr. Sarah's products! Shoo Fly for the horses and Arnica ointment for any cuts, scrapes or bruises on our cattle or horses. I feel safe using it too! I can't forget the hand sanitizer and human bug spray too! Sarah is a top-notch real businesswoman!

Kim P.