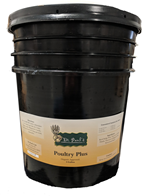 Ingredients: Reed Sedge Peat, Tinctures of Milk Thistle and Slippery Elm in Organic Grain Alcohol, and Organic Apple Cider Vinegar.
Directions: For 12,000 / 4 lb. layers administer 1/2 gallon per day for 5 days. Skip 2 days. Repeat for 3 weeks. Maintain level of 2 days per week thereafter.
Please call the office for shipping rates.