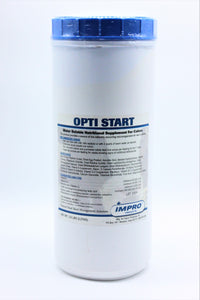 A water-soluble nutritional supplement for calves. 
Electrolytes, Vitamins, Psyllium, Direct fed microbials.
Recommended Usage: 1 level scoop equals one ounce.
1 ounce per feeding for first seven (7) days
2 ounces per feeding for calves showing signs of nutritional deficiencies.
Opti Start is a soluble product which may be mixed with water and fed alone or added to milk or milk replacer as needed.