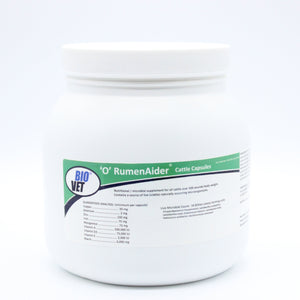 Cattle Capsules - 40 per jar
A nutritional/microbial supplement for cattle. Consider for organic use.  'O' RumenAider® has unmatched levels of vitamins, chelated trace minerals, digestive enzymes, fructooligosaccharides, yeast cell walls and a complete array of beneficial microbials.  Patented capsule-in-a-capsule©* separates and protects microbials from nutritional ingredients.
They are especially useful post calving, at receiving, during transition, shipping or handling, and for off-feed cattle. 'O' RumenAider® Capsules contain Bio-Vet's proprietary blend of three rumen strains of Propionibacteria freudenreichii (P5, P63 and P169).