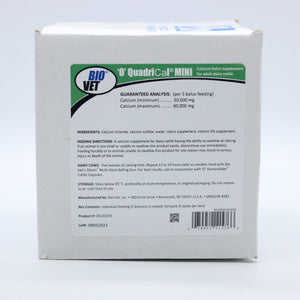 Calcium Boluses for Dairy Cattle
Individual feeding (5 boluses) in sealed, foil pack with 5 packs per box. 1 packet of 5 for one cow. 
'O'QuadriCal® MINI is a unique, new product for dairy cattle. Each five-bolus feeding contains a minimum of 50 grams of calcium. Two different types of calcium provide rapid, intermediate and sustained absorption in the cow. 'O'QuadriCal® MINI boluses also supply niacin to aid liver function during negative energy balance, and vitamin D critical for calcium utilization in the body. 'O'QuadriCal® MINI boluses are tapered for easy swallowing and may be fed with a Multi-dose Balling Gun.