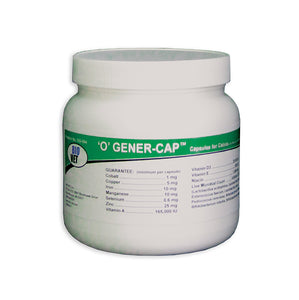 Calf Capsules - 50 per jar
Nutritional/microbial supplement for calves. 'O' Gener-Caps™ deliver patented capsule-in-a-capsule©* packaging system and provide high levels of vitamins, chelated trace minerals, lactic acid producing bacteria, kelp, fructooligosaccharides and yeast cell walls.
Recommended at birth, when calves experience sluggish appetite, shipping, during hot weather, major feed changes or veterinary therapy.  Feed one or two 'O' Gener-Cap™ Calf Capsules daily up to three days after birth, after sale barn calves are purchased, or any time listed nutrients and microbials are desired.