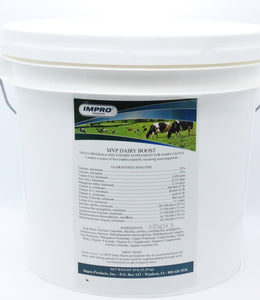 MVP Dairy Boost for dry and lactating dairy cows is designed to meet the periodic increased nutritional needs of your dairy cows. Use MVP Dairy Boost to give your cows the support they need to help them stay healthy and productive.
Feed 1/2 oz. to 1 oz. MVP Dairy Boost per head per day as a nutritional boost for dairy cattle during periods of increased need for supplementation brought on by environmental or physiological stress. This product provides a live (viable) source of naturally occurring microorganisms
Please call the office for shipping prices.