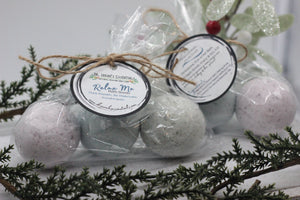 Our Limited Edition "Relax Me" Bath Bomb is a great gift to yourself or to others for muscle relaxation, skin moisturization, and aromatherapy.
Bath Bombs come in THREE unique scents and can be purchased as a pack of three in one scent or a sampler of all three.
Directions: Run a Warm Bath, add 1-2 Bath Bombs & Relax.  Soak for 15-20 minutes to relax tension and soften skin. 
Lavender Love is a unique blend of Lavender & Bergamot.
Joyful Citrus contains a blend of Sweet Orange, Frankincense, Jasmine, and Bergamot.
Peaceful is a blend of Blue Tansy (Chamomile), Patchouli, Ylang Ylang, and Orange.
Each Bath Bomb contains: Magnesium (Epsom Salt), Baking Soda, Fruit Based Citric Acid, Safflower Oil, Coconut Oil, and a unique blend of Natural Essential Oils.
**Please note that shipping this product may cause breakage to the bath bomb itself, this will not detract from usage.  Extra packaging will be added to ensure safe and in-tact arrival but we cannot guarantee no breakage will occur.**