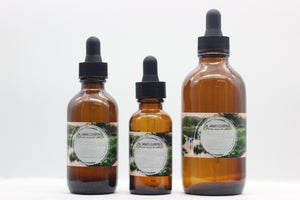 Pure Essential Oils for individual purchase in either 1oz, 2 oz or 4oz bottles.

Choose from the following:
Cinnamon Leaf
Cinnamon Bark
Clove Bud (Indonesia)
Eucalyptus 
Frankincense (Boswellia serrata)
Lavender
Lemon
Lemon Eucalyptus
Lemongrass
Lime
Orange (Sweet)
Peppermint (Japanese)
Rosemary
Tea Tree (Australia)
Thyme
Wintergreen (Nepal)
Each oil purchased comes packaged in an amber glass bottle with dropper. 
1 oz = Approximately 30mL
2 oz = Approximately 60mL
4 oz = Approximately 120mL
Contact the office via email to see if we have any option not listed above that you may be looking for.  If we currently have the oil we will submit a price per ounce it can be purchased.