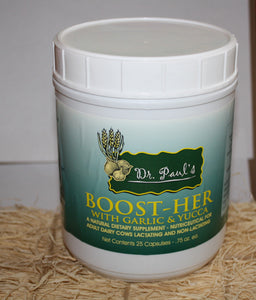 Uses:
•Building Immune System
•General Pick up for a fresh or run-down cow.
•Cow seems off or not acting like herself.
Similar to B-Well but Contains more herbs. 
Ingredients: Calcium carbonate, Calcium Sulfate, Niacian, Riboflavin, Folic Acid, Thiamine Mononitrate, Pyridoxine, Hydro Chloride, Brewers Dried Yeast, Hydrated Sodium Calcium Aluminosilicate, Garlic Bulb, Yucca Root, Vitamin A, Vitamin D3, Vitamin E and Selenium.
Directions: Administer 2 capsules twice daily for 2 to 3 days as needed.